I went CrAzY over
Jessica's
Forget Me Knot Dress Pattern
when it released earlier this summer! It is seriously adorable. It has no closures, and I knew this was the perfect dress to add to my growing need of mastering girl dress sewing. She is one of the sweetest blog friends on the planet and sent me the pattern after making my craziness known. Is she not amazing right there? You can find this in
her shop
!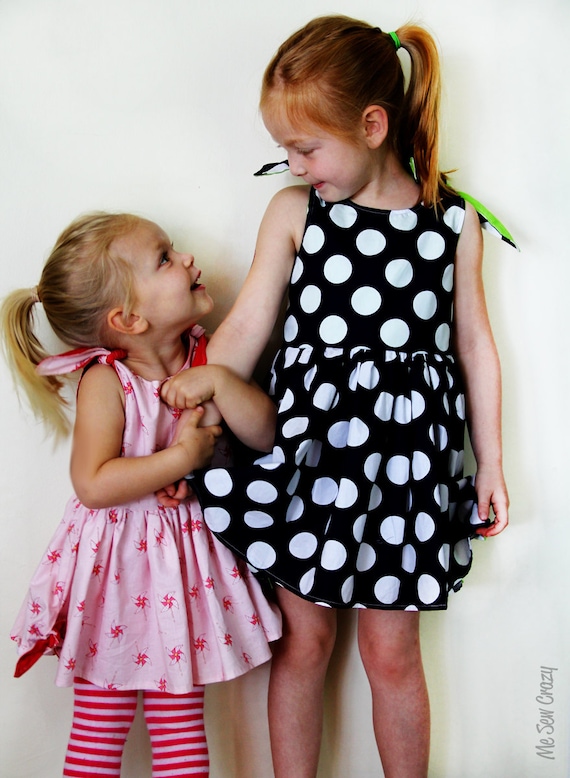 The only problem is my "sewing for girls" just doesn't happen much! I couldn't let this pattern sit much longer! In an effort to stash bust and clean out my own virtual closet, here's my
Me Sew Crazy
Polka Dot Knot Dress!
Who exactly is this child I am sewing for?
I told them to pretend like Justin Beiber just walked through the door... hahaha! Total divas.
She's one of my loved little neighbor girls that we play with on an almost daily basis. I've actually sewn for her and her sister some
skirts before
. I love each of these girls to pieces. For some reason, I am the only mother on the street that spends quality time outside "playing" with all of them, and I desperately want them to know they are loved by God.
I feel like God has me take EVERY opportunity I can to show these children love. Whether it be cookies or popsicles or a hand-made item, I want them to know they are valuable, important, and worthy.
Myrissa totally ATE up the attention. She LOVED this dress and I could tell she felt all of those things in it! Definitely made me glad I'd made it for her. Now, of course, the rest of them want something special... I better get busy!
Details:
-Myrissa is more a size 7, but the size 6 worked well for her size.
-Fabric was a stash buster that my MIL bought for me, I think at Wal-mart on clearance, no lie... do they really even sell fabric anymore?!
-I added the "M" applique to add a little something special, which kind of made it look "cheerleader-ish" to me, but fun. And I love that her little sister has an "M" name, so it can be passed down.
-This would be a great beginner sewing dress project!
Thank you, Jessica! Can't wait to make another for my little girl one day... Oh, don't you know... I WILL have a little girl one day, right God?! haha!