First off, I'm feeling much better today. If you aren't my
FB friend
, then you may not know that I was actually in the ER yesterday for my son's stomach bug. Unfortunately,
me w/o a colon & man-made jpouch
actually doesn't stand a chance against stomach bugs. My body just can't keep up with the loss of fluids and I usually end up in the ER. They pumped me back up, knocked me out with drugs, and I slept and slept yesterday!
I was sort of sad I couldn't add my design to this week's PR&P pool! I love sewing for boys, as that's pretty much all I do. Often times people don't invest in sewing boy's clothes, but I truly love it.
My favorite from the PR&P flickr pool is this one: (Her husband hates the pants... i bet mine would, too, but I LOVE THEM!!!)
Close runner-ups were:
I really loved these pants!
I've been wanting to make Cai a vest for forever!
This one is just too cool for school... oh, boy!
(Rachel that one laying down photo completely made me laugh at how serious and "model-ly" he was! Awesome!)
Okay, so there were a few others I enjoyed, too. But there were a lot of sewing bloggers "MIA" from this week's challenge, and why do you think that is.....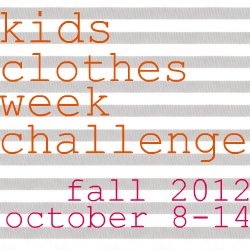 Yep! KCWC! I've been meaning to write up a post! I think you ALL from home should join in!
elsie marley's KCWC
is a week long online sewing event where people from everywhere join in committing to sew 1 hour a day for 7 days. You add your items to the flickr pool, and have so much fun watching everyone else make fun stuff, too.
Fall KCWC 2011 "Monster Tee"
I remember my very
first KCWC last Fall.
It seemed SO daunting. Sew 1 hour a day? How would I manage that? How does one sew that much? I wanted to improve my skills, so I tried, and I'm so glad I did, because I got some great little boy items for Cai that year. More than that, I was welcomed into the blog world by other amazing bloggers that became my "friends".
Fall KCWC 2011 "Moccasins"
I was much more prepared for Spring KCWC (KCWC happens in the FALL & SPRING). I had some patterns cut out prior to the week, so I could just sew. I put my sewing machine by the pool and didn't let anything stop me.
Spring KCWC 2012 "Sailboat Shorts"
Now, one year later KCWC is here again, and this time, I've actually been far less motivated than ever!!
Why?
Sewing is a daily routine for me now. Sewing 1 hour a day is not really even a challenge. I may not sew EVERY day, but I probably sew roughly 5- 7 hours a week easy now.
Spring KCWC 2012 "Sailboat Skirt for Naomi"
Since last KCWC when I really first started blogging, I've been asked to guest post on some amazing blogs, co-hosted my very first sew along, and have made a good many clothes. I have been sewing along to stretch my skills with Project Run and Play this season, and in some ways I'm a little burnt out!
Spring KCWC 2012 "taking home my baby bumblebee & PR&P wk 3 winner"
Insert a call two days ago from
Caila
! We talked about blogging and a bit of this matter and KCWC, and when I got off the phone I actually was excited to sew for KCWC! Sometimes you just need a blog friend to kick you in the bootie... haha!
Then, I started throwing up! True story...
As a sewing blogger, I love KCWC, because you can create WHATEVER you want and have fun with others doing it. You don't have to create for someone else's sewalong. You don't have to create to fit a series or a challenge. You sew what you want doing it daily for FUN! And that truth is what is motivating me to do KCWC this year again! I have some fun designs in my head and some patterns that I've been wanting to sew! A stash of fabric waiting to be refashioned and made into something!
So... how about you readers at home... are you going to
join in
?!