This is not an affiliate post, just simply something I tried and wanted to share with yall!
The other day we pulled into the mall parking lot and my 4 year old looked at me and said, "Mommy, where are we?" I answered, "We are at the mall!" He replied, "Mommy, what's a MALL?!"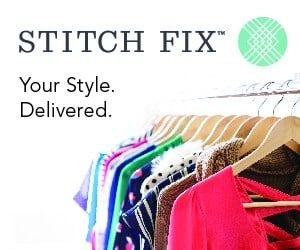 It's true. I barely make it there and the last year of pregnancy, fostering, and having a baby, 3 kids under 4. It just didn't happen. If I shopped for myself it was usually because my mom sent me something or here and there I'd grab something at Target or Old Navy or online. So, I decided to try Stitch Fix after seeing another busy mama friend try it!
It was a neat experience overall! You go online, fill out their style questions, rate styles you like, and then they take into account your sizes and send you 5 items they think you will like! It costs $20 for a styling fee, and then if you buy something you apply that towards your purchase. You also can get credit towards your fixes
if you refer someone to them and they try it
!
Inside your beautiful box of happy mail, they send you a style card that shows outfits put together as inspiration! It's a neat concept! It's like your own little pinterest diagram in real life!
I thought it would be fun to show you what came in my box this time!
First up, was this AMAZING embroidered tank top by Skies are Blue ($48). I loved the detailing on this tank and it truly fit perfectly! I loved the looseness of the front, the fact that it wasn't something I could easily make myself (you know how I am), and that it was the perfect breezy top for south carolina summers!
This was a keeper! It was my Mother's Day splurge gift item. Would I normally pay $48 for a tank top, even a cute blouse... no, I wouldn't. We live on a really tight budget as a 1 income family, but I loved it and it was part of my Mother's day from the boys! It was actually the only thing in the box I kept. Read on to see why...
They had me pair it with some pretty awesome Kut from the Kloth Catherine Boyfriend jeans ($78).
I will admit that I was almost about to get on my knees and beg the husband to let me buy these as I cannot even remember when the last time I bought myself some jeans, but a)they were just too much for our budget and b)they were just a size too big, which sealed the deal to send them back as hard as it was. I wore them some and I could tell by the stretch that they would have been SO baggy on me with continued wear. I've learned I am a bit of an inverted triangle body shape wise, and because of the stretch these were just too big. I have really skinny legs. Were they comfortable? Yes! Had they been a 6... well, let's not go there!
These jeans also went well with the other tank top in my box, a yellow/beige striped embroidered tank by Pixley ($38).
This was actually an easy item to let go. While I appreciated the embroidery on the tank and the soft knit, I really disliked the colors together. And seriously, there is NO way I would pay almost $40 for a racerback knit tank top that was made in china.
The tank fit great! It really would have been a great running around tank and had it been more summery colors like mint and white or something fun and a reasonable price, I would have liked it! It went back!
Next, was a really cute dress by Pixley, the Florence Colorblocked Dress ($68).
This was pretty cute! My main problems were just how thin the material was. It just was not a $68 dress, so I sent it back! I do love me some color blocking and my stylist definitely picked up on that from my
Pinterest board
, but the way the waist was accented just wasn't that flattering (think long boobs) and I think I would have liked the colorblocking to go straight across versus the curve. I love navy and the colors were great! This might be an inspiration for something I would make myself though. It just was too simple and thin to be a keeper.
Lastly, were some Bay to the Baubles earrings ($28).
I liked the feathers, but didn't love them. Not enough to keep them. They were cute though!
Overall, I enjoyed it, was sticker shocked... can I have the clearance, on sale version, please!!! My style wasn't nailed either, but I am enjoying the cute top I kept. I REALLY wanted this service to work for me, because I am a busy mom and the idea of happy mail showing up on my doorstep every so often is really exciting! I love that you can send back what you don't like free shipping! You do have to decide within 3 business days, fyi!
I would do this again and I will give it another chance to see if they can match my budget a little better. Even if you only found 1 fun thing and sent everything else back, that's 1 fun thing that was worth it! And every time you do it, your stylist learns more about you and what you do like! I think it will be a great way for me to add some interesting pieces to my wardrobe every so often!
If you want to try
Stitch Fix, you can sign up here
! Another fun fact, is that you get a $25 credit if someone signs up and tries it! Oh, and you do get a 25% off discount if you love everything in your box and keep it all!
Well, hope you enjoyed that! Haha! Check it out sometime! It really was fun!